Aircraft of the State Enterprise "Kazavialesoohrana"



Bo.105 - German multi-purpose and attack helicopter. It is produced in military and civilian modifications. Developed by the German company MBB (DASA).
I made the first flight in 1967, in total by 2001 more than 1200 helicopters of various modifications were produced. It is used by many countries around the world, it is widely used in civil aviation.
| | |
| --- | --- |
| | MI-2 (NATO classification: Hoplite - "Hoplite") is a Soviet multipurpose helicopter, developed by the MIL Mil Design Bureau in the early 1960s. In 1965, serial production was launched in Poland. It is widely used for many civil and military tasks. Before the end of production in 1992, over 5,400 units were built. Even now, the Mi-2 takes part in tenders, competing with its successors Ka-226 and Ansat. |
| | |
| --- | --- |
| | MI-8 (B-8, article "80", on the codification of NATO: Hip - "hip") - Soviet / Russian multipurpose helicopter, developed by OKB ML Mil in the early 1960s. It is the most massive twin-engine helicopter in the world, and is on the list of the most massive helicopters in the history of aviation. It is widely used for many civil and military tasks. |
| | |
| --- | --- |
| | The MI-8MTV is a unique multipurpose helicopter, based on the Mi-8T helicopter. It differs from the Mi-8T with a powerful power plant, modified avionics and a number of changes in the design of the fuselage. It has two gas turbine engines TV3-117VM, the capacity of each of them is 2200 horsepower. |
| | |
| --- | --- |
| | Mi-17 helicopters are further development of Mi-8 helicopters with two TVZ-117MT GTE take-off power of 1400kW, and improved performance. The development of the Mi-17 helicopter was completed in 1980, and in 1981, he was first demonstrated at the aerospace exhibition in Paris. Mi-17 helicopters are produced by the Kazan Helicopter Plant and an aviation plant in Ulan-Ude, where more than 2,000 Mi-17 helicopters of various modifications have been built. |
| | |
| --- | --- |
| | Partenavia P.68 - light transport aircraft. Developed by the Italian company Partenavia. Created to provide regular, charter and civilian transportation. The prototype of the P.68 aircraft made the first flight on May 25, 1970. Had several modifications. Structurally it is a high-wing, equipped with two turboprop engines. |
| | |
| --- | --- |
| | Cessna 182. The Skylane prefix was first used in the name of the modification 182A to denote more perfect equipment of the model) - an American lightweight general-purpose aircraft. Developed by Cessna. One of the most mass airplanes in the history of aviation. Serial release - from 1956 to 1985. In 1994 Cessna announced plans to resume production of the model 182. The prototype of the new 182S made the first flight on July 15, 1996, and the first deliveries took place in April 1997. It is produced till now (2011). Since 1956, more than 25,000 airplanes have been built in more than 15 modifications. It was made of metal, although some parts, such as the engine hood and wings, are made of fiberglass or thermoplastic. |
| | |
| --- | --- |
| | An-2 (on codification of NATO: Colt - "Foal", razg. - "Kukuruznik", "Annushka") - Soviet light multi-purpose aircraft. It is a piston single-engine biplane with a wing wing. It is equipped with the A.Shvetsov engine ASh-62IR. An-2 is used as an agricultural, sports, transport, passenger aircraft and is used by the Air Force of many countries. For 2012, 2271 An-2 are in operation in the world; in Russia there are 1,580 An-2 aircraft, of which 322 are operational. |
Helicopters in the service of the Kazavialesoohrana
Equipping the helicopter with additional equipment makes it possible to use it in forestry - to extinguish forest fires. Usually, with the help of helicopters, water or chemical flame retardants are thrown onto the fire. For one flight the technician is able to drop up to several tons of water, which is an effective tool in the fight against dangerous elements.
Monitoring of ecological zones
Prevention of poaching is similar with the patrolling function of helicopters. That's why helicopters are hardly the only helper in the fight against illegal loggers.
Thus, helicopters not only serve as transportation, but also help to save the natural resources that are falling every day, and sometimes even somebody's priceless lives.

Ground equipment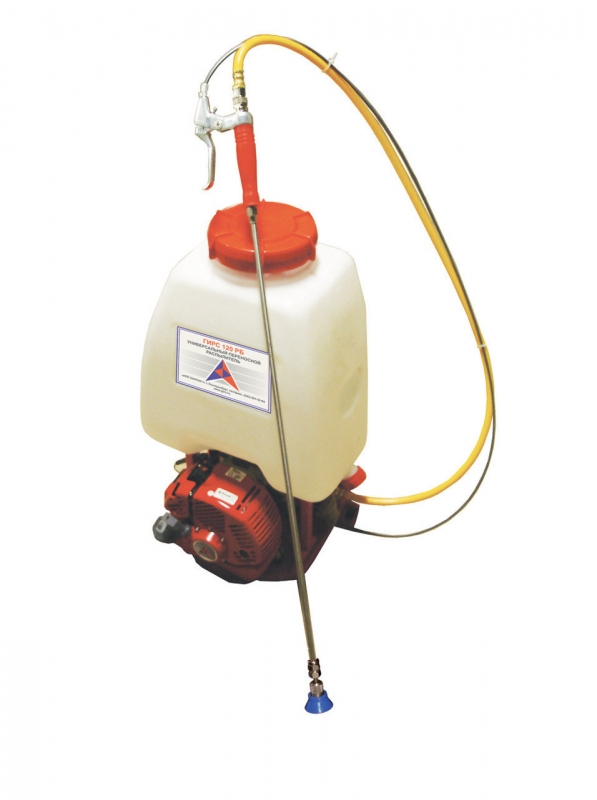 The fire extinguishing system "GIRS-120RB" was developed specifically for the forest and agricultural sectors with the aim of effectively fighting forest and steppe fires. The device is convenient, easy to use and economical, one fueling (gasoline) is enough for 8-10 filling stations of the extinguishing liquid, which allows in the shortest possible time to localize the fire with minimal expenditure of fire extinguishing liquid and without any special effort of the operator. The effective quenching range is 4 meters, which is sufficient in forest conditions. With a range of a fire extinguishing fluid with additives 1.5-2.0m. the efficiency of work on the fire point is increased several times. A pressure regulator, a nozzle regulator, a gas knob can control the flow rate of a fluid and thereby increase the area of the treated area several times. The sprayer is also designed for highly efficient spraying of water and aqueous solutions of various preparations for the purpose of cooling structures, degassing, disinfecting, decontaminating, sanitary and other processing. The sprayer can be extinguished with water without the addition of electrical installations that are under voltage up to 1kV inclusive from a distance of more than 1 m.
As a fire extinguishing substance GIRS use sprayed liquid (water), accelerated by supersonic (80 m / s) gas flow. The obtained gas-liquid flow can be formed in the form of a compact long-range jet or in the form of a wide torch with an opening angle of up to 50 degrees. The liquid can be supplied both continuously and in pulses with a duration of 0.2 s.
Fire extinguishing is provided by high insulating, penetrating and cooling properties of the nebulized liquid, as well as flame failure under the influence of high-speed gas-liquid flow. The absence of a solid stream of fire extinguishing solution allows you to extinguish electrical installations under voltage.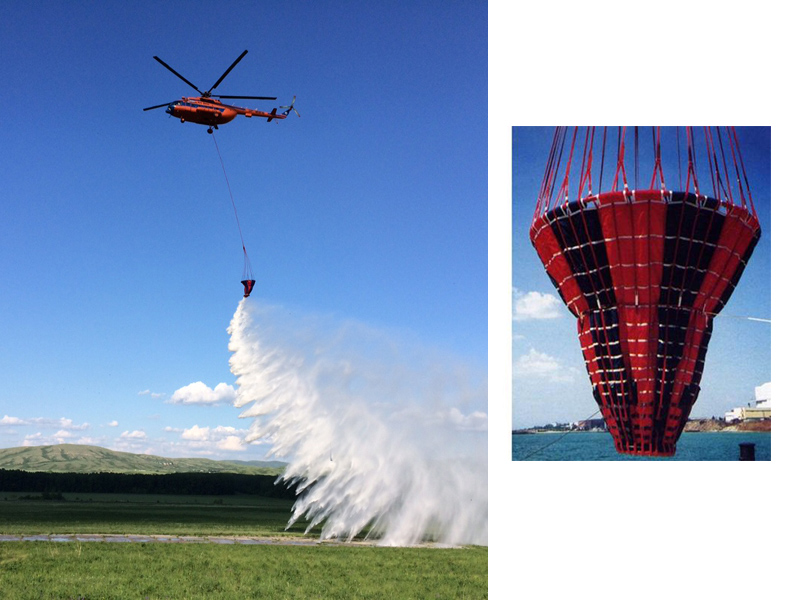 Drainage device VSU-5A, transported on an external sling of helicopters of appropriate capacity, is designed to draw water from open reservoirs (reservoir, lake, river, sea) in the hovering mode of the helicopter, deliver water to the places of fire and discharge in hover mode or translational speed.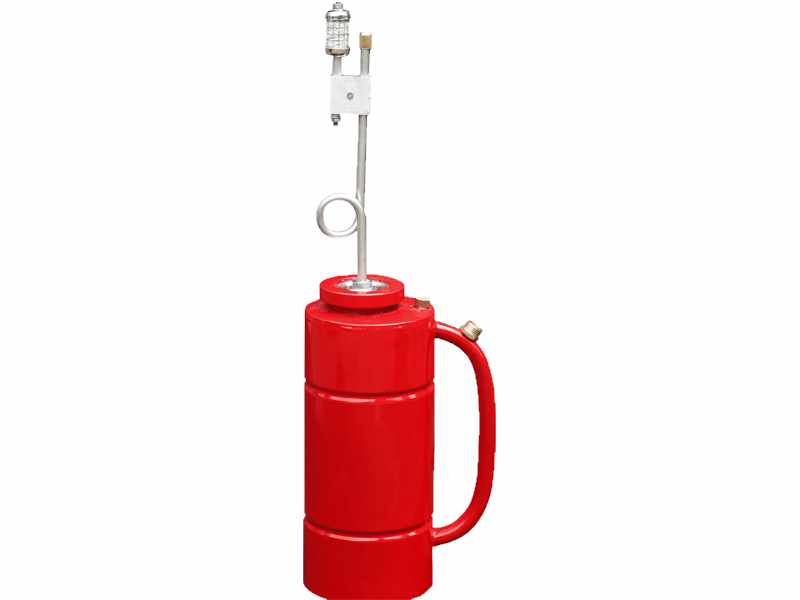 The incendiary device AZ-4. The incendiary device AZ-4 is used to set fire to the ground cover and litter in the fight against forest fires by launching a counterfire or annealing from the support strip, as well as burning logging residues during fire clearance of cuttings, holding agricultural trees and controlled burning. With the development of a lowland forest fire to medium and especially strong intensity, when the flame height exceeds 1.5-2 meters and the speed of the edge of the fire is more than 3 m / min, direct extinguishing of the edge of the fire is impossible due to the high temperature from thermal radiation and propagation velocity. This also applies to high fires. In this situation, fire extinguishing is applied by annealing forest hot materials from natural boundaries: streams, marshes, roads, paths, or a mineralized strip is created using earth moving equipment or hand tools, at a calculated distance from the edge of a forest fire, depending on the vegetative conditions, intensity and type forest fire. After preparation of the support strip is annealed towards the edge of the fire.






Fire tanks for water (RDV-100).
When access to water is limited, and in most cases this is the case, water tanks are the most necessary means to fight forest fires.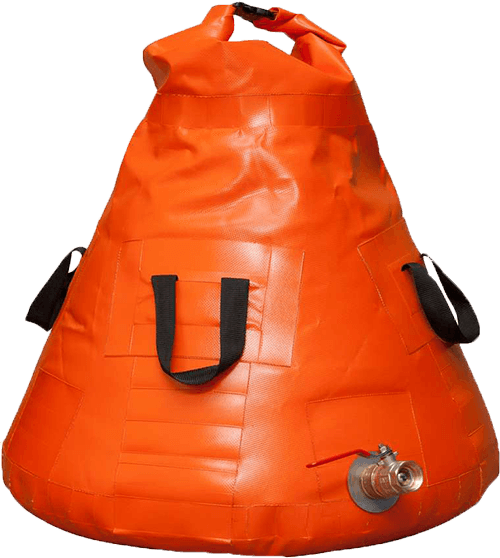 The preparation FR CROS 134 P. It is used to increase the effectiveness of extinguishing fires, when mixed with water, it increases its fire-extinguishing effect. After the treatment of vegetation and plant residues with this composition, the possibility of ignition from external factors is almost completely lost, and the fire-resistant properties remain for a long time.






Chainsaw "EFKO-136" (Italy).
Used for clearing debris when approaching the fire site.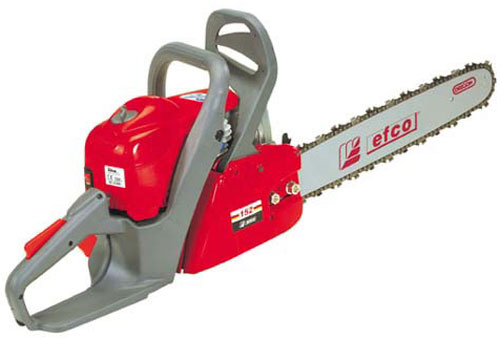 Blower sprayer AM-190 (Italy). Compactness and not a lot of weight provide ease of handling, allow you to eliminate fire in places of fire.
Engine capacity, cubic see 72.4
Tank capacity for liquids, l 14
Max. fluid flow, l / min 0.5 - 3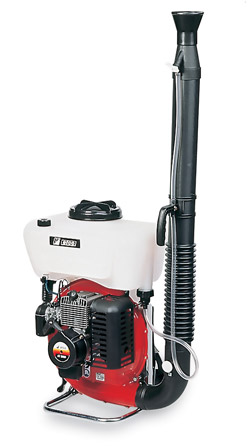 The Small Forest Patrol Fire Complex (MLPK) is intended for patrolling, transporting people and fire fighting equipment to forest ground fires and carrying out the necessary fire fighting activities associated with fire fighting ground fires. Scope - all forest vegetation zones. MLPK is designed for operation and storage without storage at ambient temperature from + 40'C to -40'C.
Water tank with a volume of 500 liters. 1 PC.
Motor pump "Sprut-3" complete with sleeves 1 pc.
Installation of fire-fighting high pressure (UPVD) "Ermak" 1 pc.
Wetting "PYROCOM" with tube 1 pc.
Firepack satchel RP-18 "Ermak" 5 pcs.
Gas and smoke protection kit GZDK 5 pcs.
Individual medical kit (first aid kit) 5 pcs.
Installation set (boxes) 2 pcs.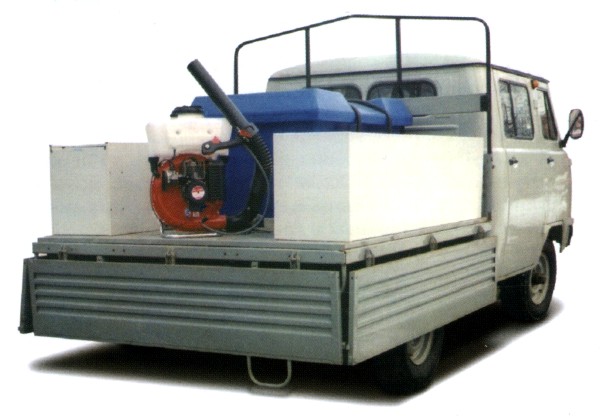 Lightweight fire module "Yermak", with sleeves and capacity of 1 m3 portable / trailed course
Light fire module An effective means of fighting fires in rural settlements, industrial and forestry facilities. Mobility (transported in any car), sufficient supply of water (completed with a choice of soft capacity from 600 to 4500 l), high extinguishing efficiency (motor pump output pressure 7 atm., Completed with a solid wetting agent "PYROCOM") with a small price and ease of operation make LVL "ERMAK" indispensable for equipping voluntary fire brigades and professional teams of municipalities, agricultural and forest enterprises.
Engine "HONDA" 5.5 liters. with.
Sleeve pressure head 25 mm 80 m.
Sleeve pressure 38 mm 40 m.
Satchel pozh. "RP-18-Yermak" 1 pc.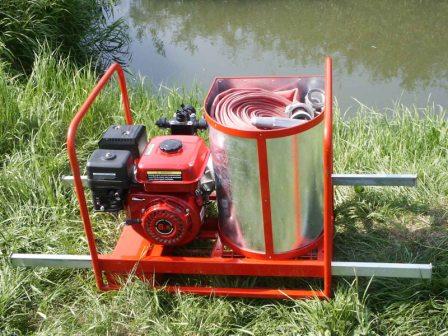 One of the most effective devices used by both amphibious and ground units of Avialesookhrany, emergency services, forestry organizations is the Ermak fire fighting high-pressure installation. Workers with experience remember the well-established Yugoslav installation of "Kotorna." Our company supplies a version of "Ermak" of this installation, which is not inferior to imported counterparts.
The principle of operation of the installation is based on the effect of quenching with fine water under high pressure, while the water consumption is only 10-15 liters per minute. The unit is equipped with a solid wetting system, thereby increasing the quenching effect.
Mobility is provided by a movable high-pressure hose 50–75 m long. The low weight and sufficient length of the high-pressure hose ensures high mobility in extinguishing multi-storey buildings. UPVD can be transported in all cars of the brand UAZ, as well as on any truck.
Technical characteristics:
Engine: Briggs & Stratton (USA) 4-stroke, power, kW, (l / s) 4.3 (6.0)
Productivity, (l / min) 10-15
The range of the jet, (m) to 17
Dimensions, (d / y / v) cm 55 * 55 * 55
Weight, kg 62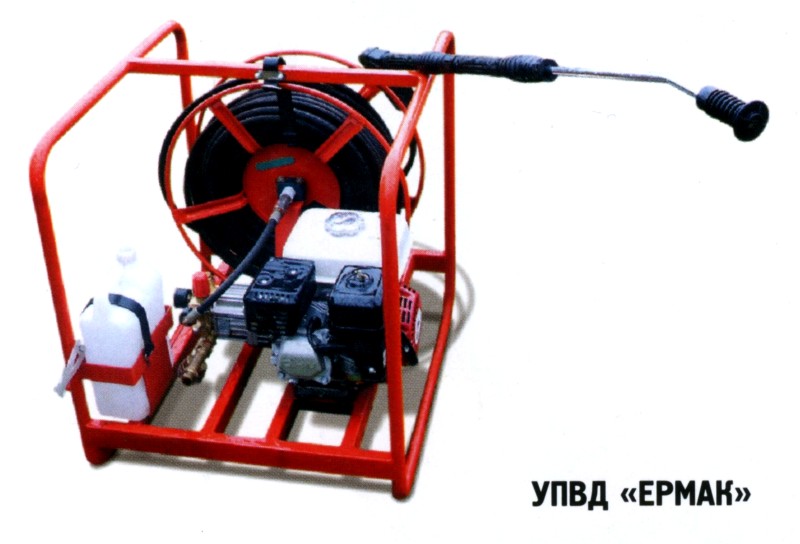 Knapsack forest fire extinguisher (RLO) "RP-18" Yermak" is designed to extinguish ground forest fires with water and aqueous solutions.
Technical characteristics:
Length (cm) 52
Width (cm) 36
Height (cm) 16
Water consumption (l. / Min.) 2.25
Curb Weight (kg.) 20.5
Water tank (l.) 15-18
The range of the jet, (m) 10-12
From July 2010, a forest fire extinguisher will be equipped with a novelty: a wetting tablet, which repeatedly reduces the surface tension of water, which significantly reduces water consumption in the area of ​​fire extinguishing and increases the flame attenuation rate.
One tablet is designed for three refueling backpack fire "RP-18" Ermak "or blower" Angara ".
The housing of the hydraulic control panel can be made of duralumin alloy with a rod (the inner part) with a nickel-chrome-plated coating or of impact-resistant polyvinyl chloride plastic. On both types of hydraulics - fitting and nut made of non-ferrous metal. The advantages include a simple and convenient nozzle, easily switchable from a compact jet to spray. The original design of the shut-off valve (made of German material), embedded inside the hydraulic control, blocking the flow of the working fluid in the intervals between the working cycles. This valve design made it possible to abandon the ball valve used by other manufacturers, which reduced the product weight, dimensions, and increased convenience in operation.
The capacity of the Ermak backpack fire extinguisher consists of: - a bag of rubber MLE-6M manufactured by Ufa Plant of Elastomeric Materials, Products and Structures (UZEMIK) (in the opinion of most forestry workers of almost all regions today is the best capacity for knapsack fire extinguishers) with wide adjustable back straps made of plastic material with soft edges - a cover of durable signal-colored fabric with built-in insulating pad made of "GE" RMAFLEX "on the basis of polyethylene and pockets for hydraulic control and foaming nozzle; - necks with a net and a lid, which is also a measuring cup (volume 180 ml) for dosing the foaming liquid;
Foaming nozzle, allows you to work with all available types of foaming liquid.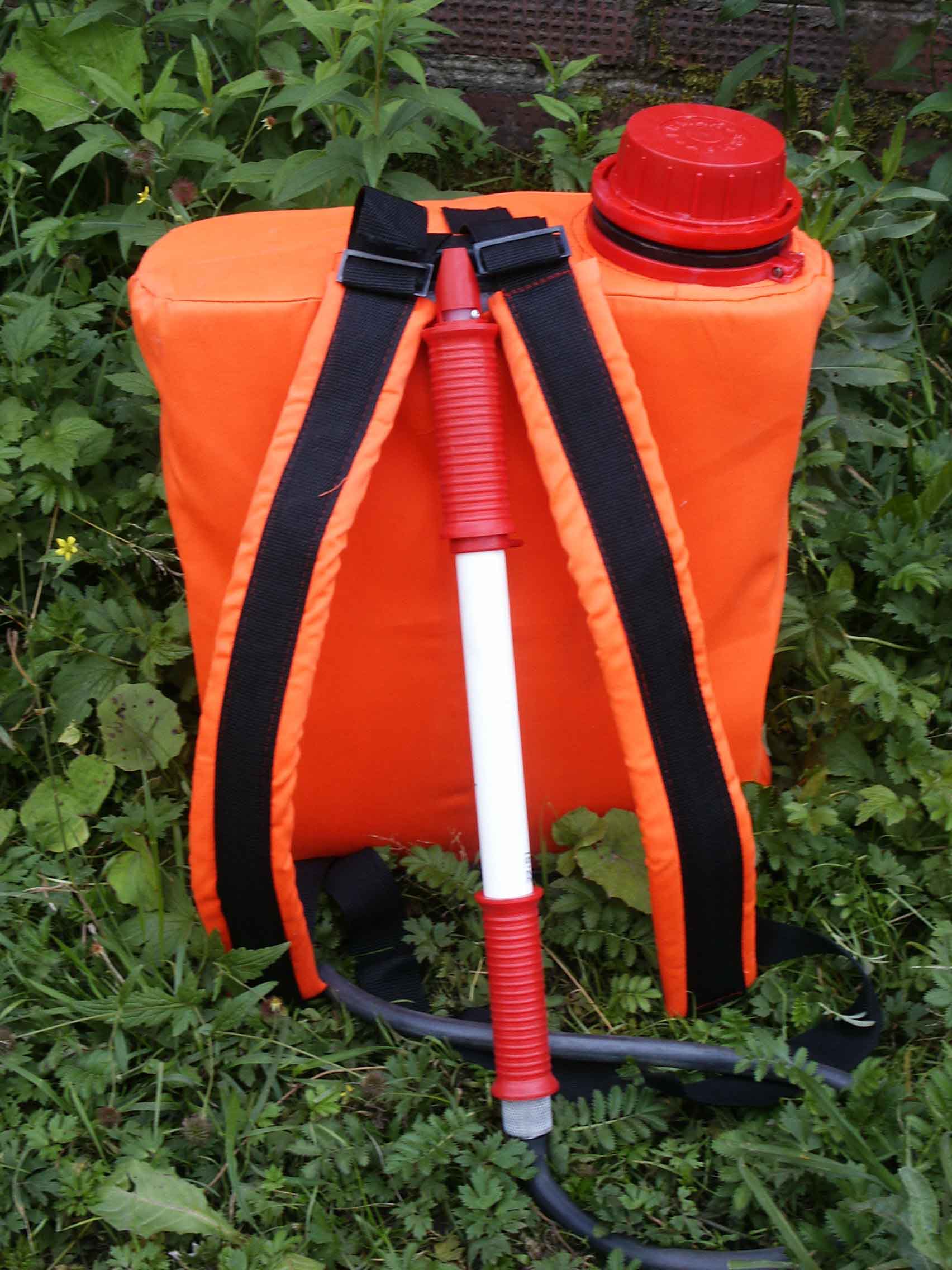 Аlmaty c., Kerey-Zhanibek xandar 259 str.
Phone: +7 (727) 271-81-45
Е-mail: airbar@list.ru
Official site of the "Kazavialesoohrana"© 2011-2020. All rights reserved.
Reprinting and use of the site materials is allowed only with the consent of the site administration.